The G-Force 10 professional version lives up to your highest expectations with her rough and rigid hull design and a comfort in its own class.
No compromises have been made to ensure high quality and innovative technical solutions. She is a unique work boat that combines robust construction, high performance regardless of weather conditions.
The G-Force 10 is one of the toughest and most comfortable boats in her class, thanks to the ingenious design of the hull and the clever construction of the cabin and deck.
The extremely strong, yet lightweight body offers high speed and low fuel consumption. The superstructure of both hull and cabin is made of high grade ocean aluminum. This ensures an impressive lifespan with high sustainability.
The main cabin with helm on G-Force 10 is independently suspended. The suspension offers a smooth, silent and vibration free ride for both the captain and passengers. In addition, she also provides safety and easy access for overhaul and maintenance.
The cleverly designed L-sofa in the cabin with table and floor section converts easily into a flat cabin floor for various transportation.
The large aft deck can handle divers, tender lifting devices or be freely arranged.
With the single Volvo Penta D6 six cylinder engine, she offers 380 hp for professional use.
The G-Force 10 has a Notified Body for 10 persons in Category B class. This in addition to CE (Declaration of Conformity) and SOLAS safety equipment.
Specs
Technical specifications
Length overall
35 ft (10.9 m)
Displacement
5200 - 5600 kg
Passengers
B - 10 persons
Inboard engine
1 x Volvo Penta D6-380
Speed range
30-35 knots flat out
Fuel consumption, cruise
1.8 L / NM @ 30 knopen
Classification
B - Offshore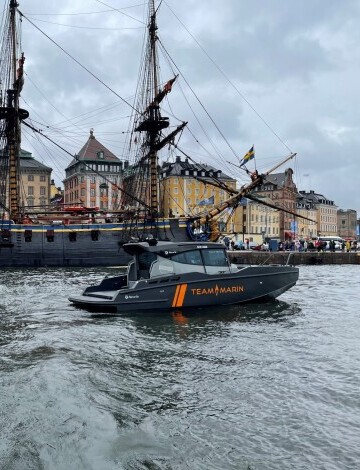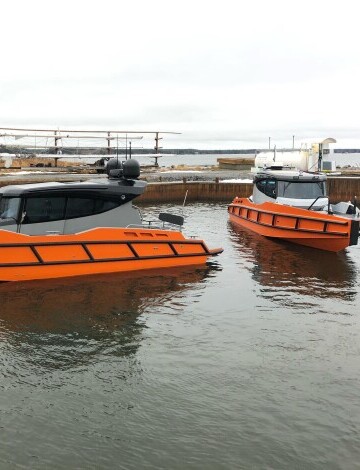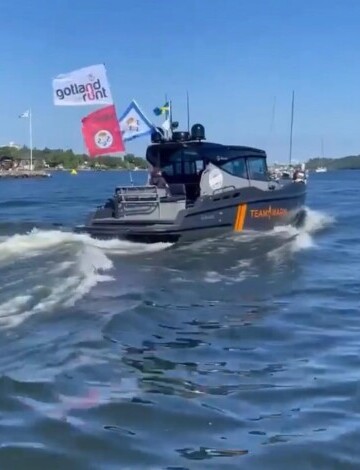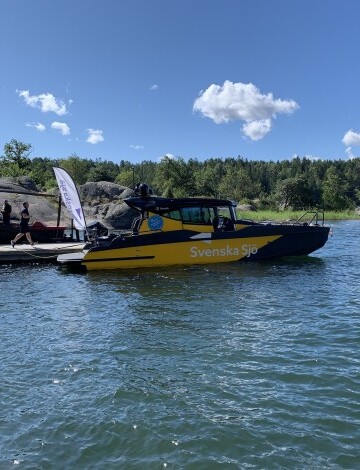 Standard equipment
Main cabin on rubber elements for 10 persons
Comfortable helm & navigator seat with suspension, rotating, adjustable armrests and headrests
One color silvertex on sofa and seats
Large storage under sofas
Liftable sofa and table in main cabin
Electric steering
Sliding rear an side doors
Chartplotter Raymarine 16'' with remote pad
Combined 7'' engine datascreen
Raymarine Audio system with speakers in main cabin
Bow thruster
Electrohydraulic trimtabs
Grab rails on deck
Windshield wipers with intermittent switch
Storage in front / door to main cabin
Mooring kit with four strong mooring lines and six fenders
Electrical automatic bilge pumps
Smartdeck floor in main cabin
Automatic fire extinguisher system for engine bay
Optional equipment
Front cabin with bed for two persons, door from main cabin and separate emergency exit
Fresh water system with calorifier (hot and cold water) includes 100 l water tank
Galley module in main cabin incl. Electrical Hob, sink, refrigerator
Diesel heater for cabin
Air conditioning (Diesel generator and shore power required)
Smartdeck Design or Teak deck flooring
Dimmer switches
Roof with 2 x operable sunroofs 60 x 60 m
Two colour tone (hull/inside)
Aft sofa with storage box with 6 fender holders
Durable D-List (Professional)
Commuter version D-List
Tailgates on aft deck
Ice protections around flaps and stern drive
Shorepower system incl. charger with double system converter
Searchlight
Anchor winch
Raymarine Autopilot, VHF, AIS700, Sonar 3D
Raymarine Satellit antenna 33 STV + dummy, with digibox
Optional lifting device for tender max 200 kg (max. size: Williams Minijet 280 och Seadoo spark)
SOLAS safety equipment (EPIRB, SART, LIFE RAFT etc.)
Roof rack with ladder
Professional VHF
AIS
etc.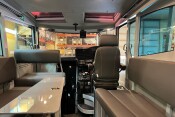 276008184 485434979583938 5232912087146382802 n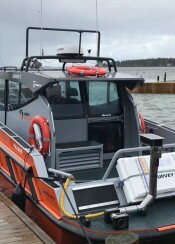 42283814 535605270242289 3453726826419978240 n v2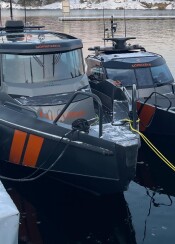 G-Force 10 Professional Boat 4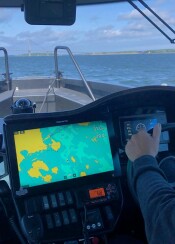 67637811 732677840535030 3473787957234630656 n v3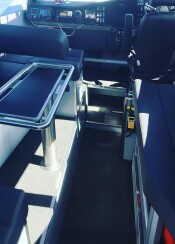 35518045 436381336831350 2500575443434864640 n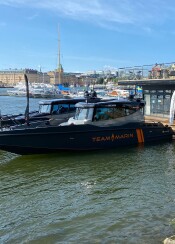 G-Force 10 Professional Boat 5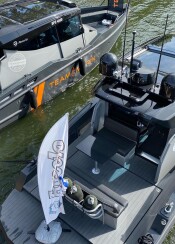 G-Force 10 Professional Boat 6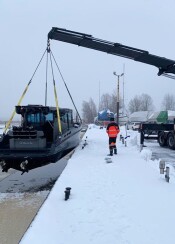 G-Force 10 Professional Boat 7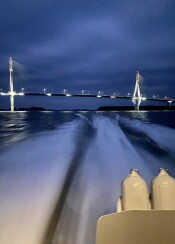 G-Force 10 Professional Boat 9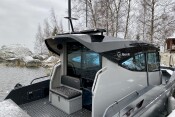 G-Force 10 Professional Boat 8