Like her larger sister G-Force 8 is one of the toughest aluminium boats on the market.
Thanks to the ingenious design of the hull and cabin she is silent and vibration free. She reaches a top speed 45+ knots flat out with a Mercury V8-300 petrol outboard engine.
The cabin is floating on rubber distances, achieving a vibration-free drive with low noise level and excellent insulation. Thanks to the ingenious design the convertible rear wall offers open hard top or enclosed saloon. In addition an openable sunroof comes as standard. With the various configurations of seating you can choose between twin long side sofas or a convertible L-shaped sofa. Thanks to the displaceable back rest the sofa is freely arranged for seating inside or outside facing aft.

The G-Force 8 has an open aft deck. The cabin incorporates storage units, sofas in various configurations and optional tables and additional equipment. Arrangement of these depends on the equipment level chosen by the customer.
The extremely strong, yet lightweight hull offers both high speed and low fuel consumption. The superstructure of both hull and cabin is high grade recycable (AW5083) ocean aluminium. This ensures an impressive lifespan which makes her fully recyclable and sustainable.
Specs
Technical specifications
Length overall
26,25 ft. (8 m total)
Displacement
2200 kg with outboard engine
Classification
C - coastal
Outboard engine
Mercury V8-300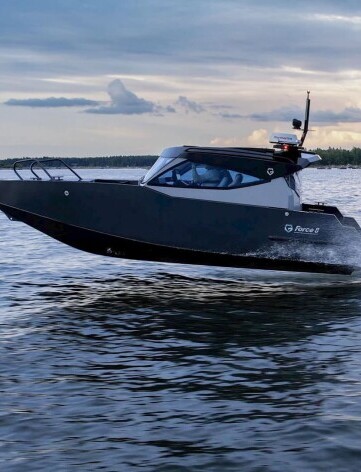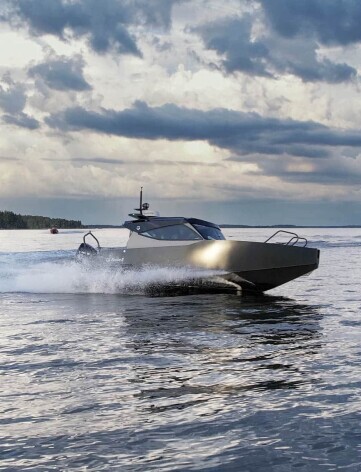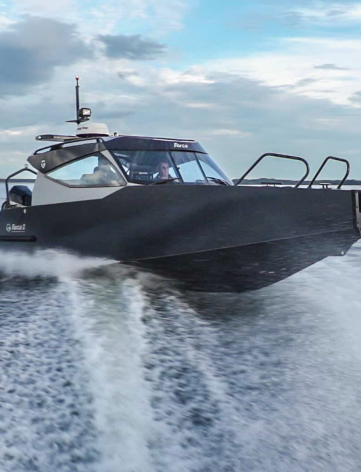 Standard equipment
Cabin on rubber with center door front and openable reardoors
Comfortable helm & navigator seat with suspension
One color fabric on sofa and seats
Large storage under sofas
Hydraulic steering
Rubber bumper in bow
Grab rails inside and on deck
Storage in front
Mooring kit with four strong mooringlines and 4 fenders
Electrical automatic bilge pumps
Insulated cabin (Smart deck)
Smartdeck floor in cabin
Automatic fire extinguisher system for engine bay (inboard only)
Bumper list around swim platform (inboard only)
Aluminium keel with towing hook
Bathing ladder
Battery package with mainswitch
Bow thruster
Aluminium roof with opening, two windshield vipers
One colour fabric on sofa
Diesel heater Raymarine 12" plotter
Trimtabs (electrical)
Paint of boat in one color
2 x USB charger in cabin
Optional equipment
Targa / Radar arch on roof
Automatic steering for trimtabs
2 x Recaro seats with air suspension
Led worklight in front and back
Lowlevel lights in cabin
Heater control via phone (webasto only)
Paint two color
Smartdeck Design deckfloor (grey with black trim)
Sand in paint on floors
Searchlight electrical
Commuter version D-List / diagonal only on hullside
Anchor winch stern
Second Chartplotter Raymarine 12" touchscreen
HD Digital Radome Radar
Raymarine Autopilot
Raymarine VHF Ray 90
Raymarine Ray 91 with VHF and AIS
Raymarine Sonar
HD Digital Cyclone 3' Radar (open)
Exterior cushions front seating
Audio, inkl. 2 speakers
Premium audio, inkl. 4 speakers and subwoofer
Table outside with removal leg
L-sofa in cabin with adjustable backrest
B6EAAB05 85E4 4D3A 9486 B3C5F11823F2 v2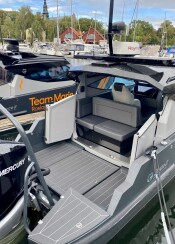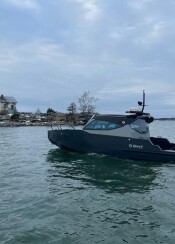 321793534 827797208446896 3205785517045594744 n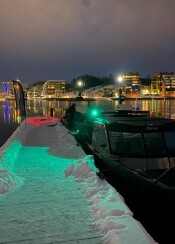 320171666 707297180824552 268926158134978134 n 2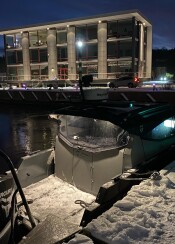 319222273 810038043420750 4938654424630003958 n 2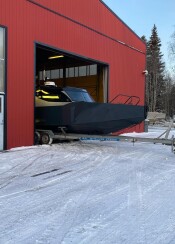 322414553 3374018416143563 7177455123844125794 n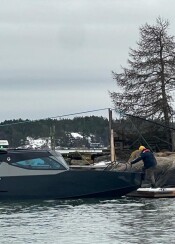 320934396 839074893848158 1859511627251368940 n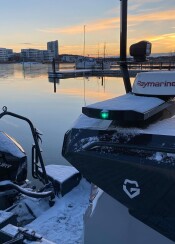 320135989 835892284343138 6936588204215459632 n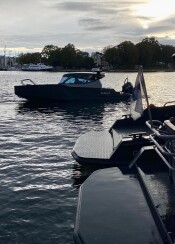 307840108 615582579902510 3214020932650246715 n 2